Chaudhary Foundation feels a strong sense of responsibility towards society and strives to build a better, healthier Nepal. We are committed to improving lives and strengthening our communities.
Chaudhary Foundation was established in order to execute the social deliverables and social responsibility of the Chaudhary group in Nepal. Social innovation through community development projects is crafted in order to create a bigger social impact. It creates an optimistic bonding with employees, customers and with society. The Foundation currently focuses on Education, Disaster Management, Relief and Response, Enterprises Development, Skill and Livelihood Development, Health and Spiritual and Heritage Conservation initiatives across the country in 26 different districts that impact lives of thousands of people. Chaudhary Foundation aspires to strengthen the country and helping the nation to reach its Sustainable Development Goals and to uplift the nation from the under-developed status to the developing nation status.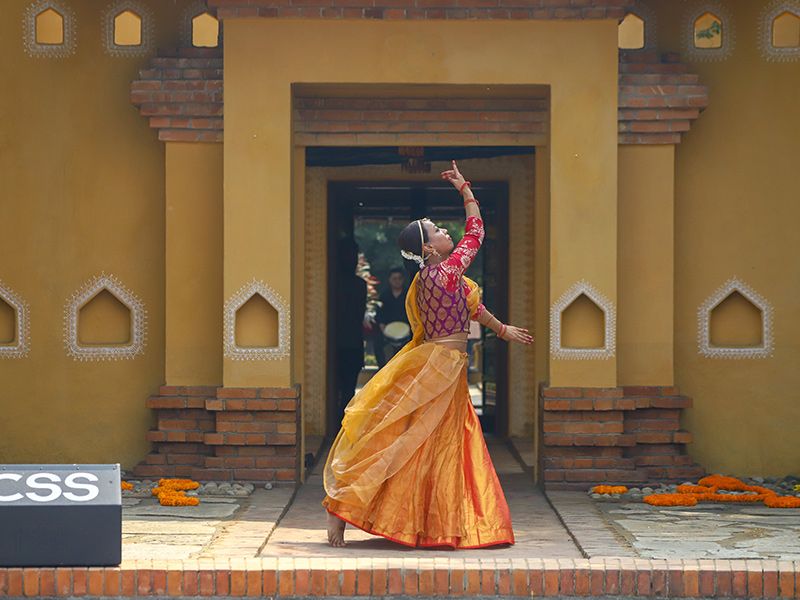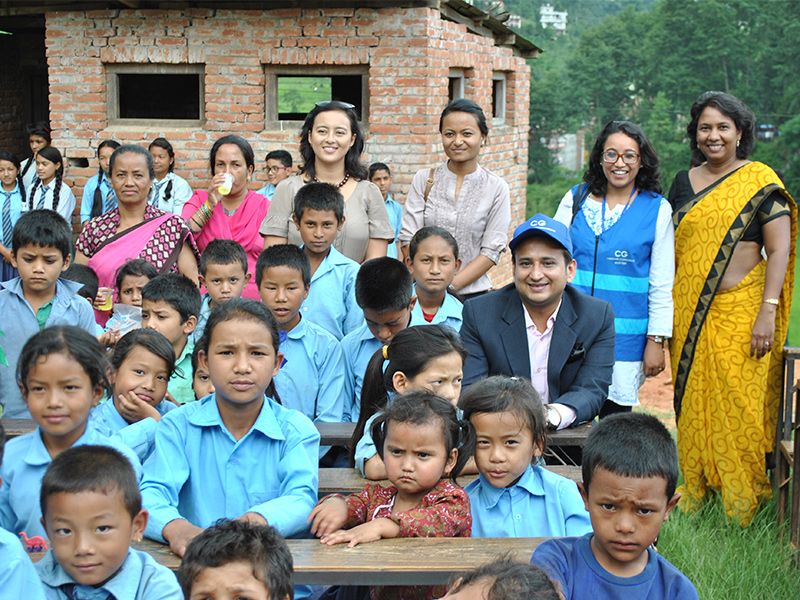 COVID-19 RESPONSE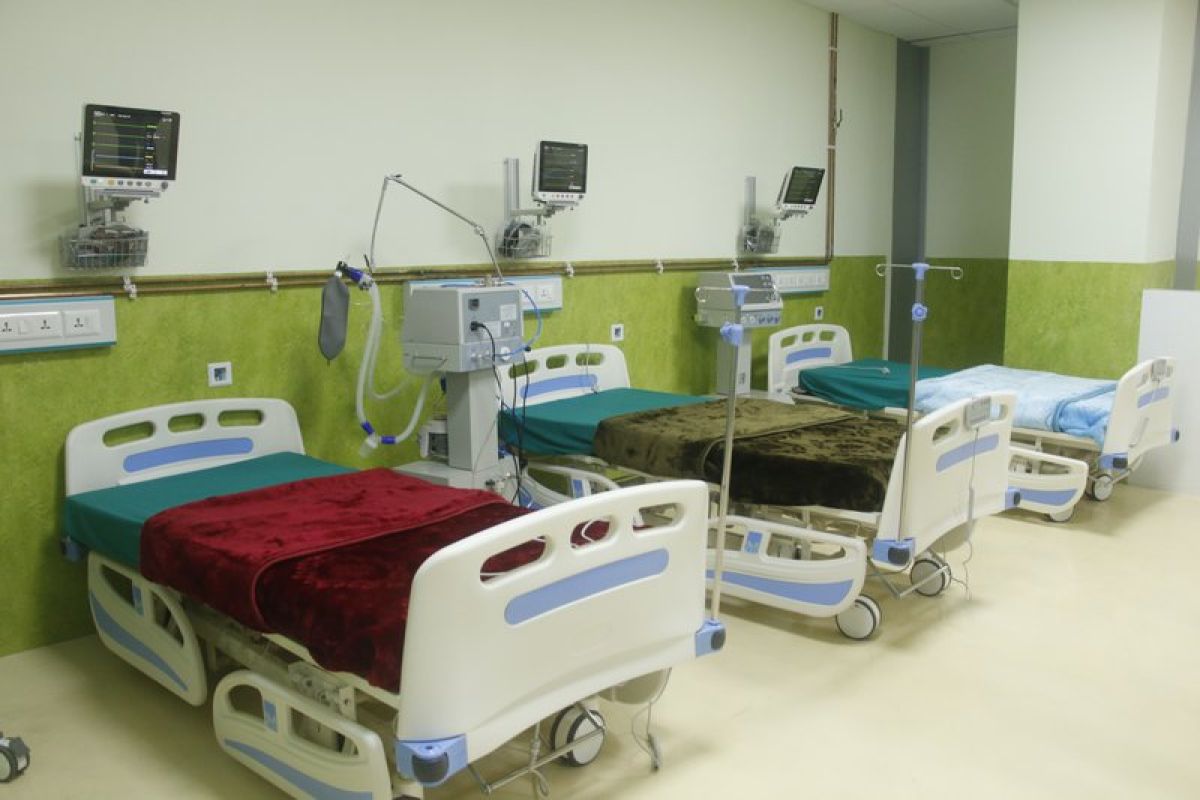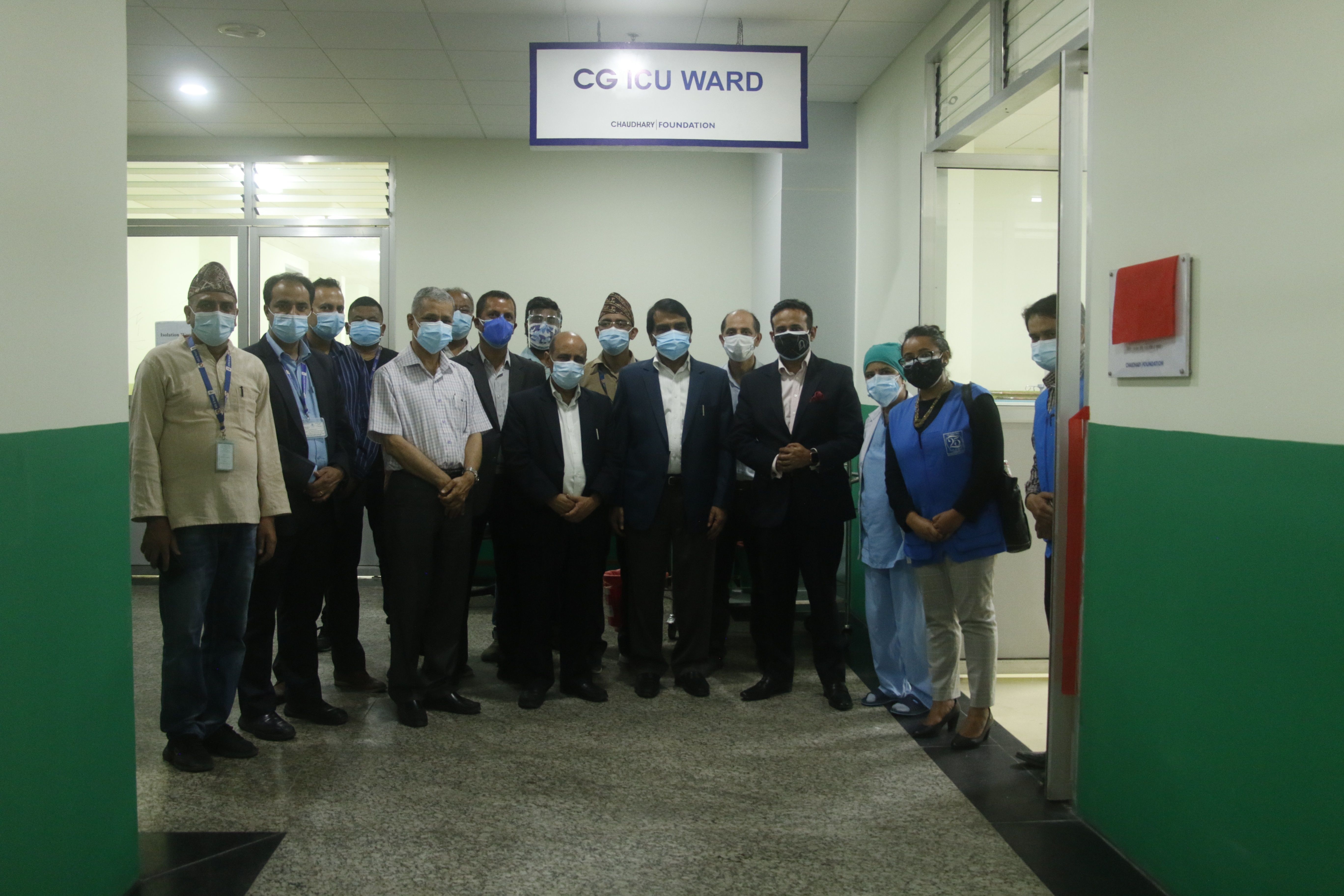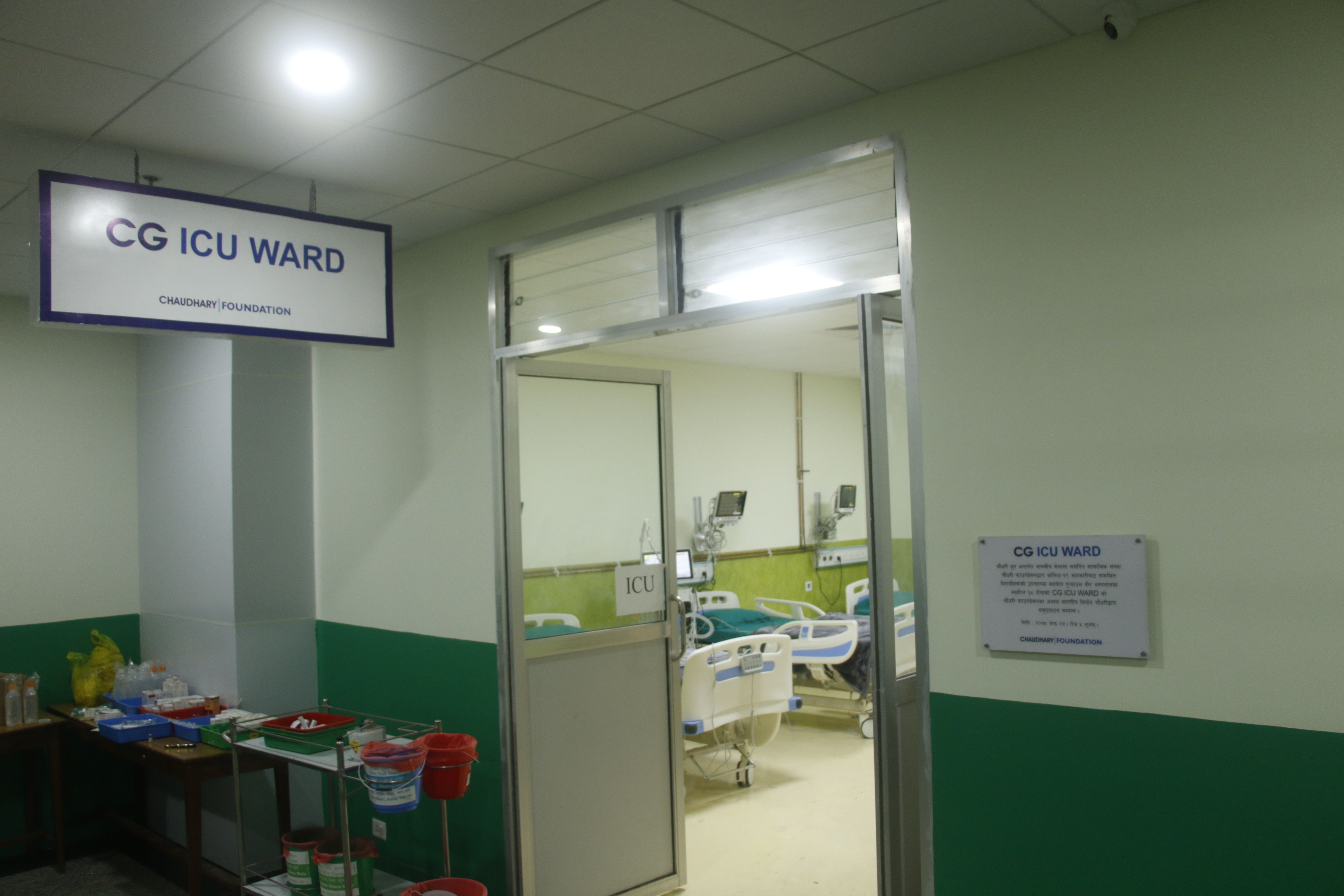 Chaudhary Foundation, a forerunner in disaster response got to work immediately. Various discussions and meetings were held with health professionals and government officials to come up with a countermeasure for the looming catastrophe. We took a swift initiative to overcome the crisis of lack of infrastructure and technology, limited testing kits and Personal Protection Equipment (PPE).
We took it upon us to provide essential medical equipment to health personnel. In a three-phase campaign between March to May 2020, Chaudhary Foundation distributed PPE, surgical masks, N95 masks, hand sanitizers and oxygen concentrators to over 119 government hospitals, district administrative offices and health posts. Additionally, 1000 testing reagents required by Reverse Transcription Polymerase Chain Reaction (RT PCR) machines were handed over to the Minister for Health and Population, Hon'ble Bhanu Bhakta Dhakal on 8th April 2020. Although our support was minuscule, we are proud to have helped our government to some extent.
In continuation of the COVID-19 Prevention and Protection Campaign, Chaudhary Foundation provided medical equipment to 30 birthing centers in Province 2 on 5th June 2019. CG Foundation India also extended support to Delhi Government's ongoing relief efforts for COVID 19. Pledging to deploy resources for the ongoing relief efforts, International conglomerate, CG Corp Global's CSR arm, CG Foundation India committed essential support to the vulnerable communities in the region to mitigate the impact of the pandemic.
Wai Wai Noodles packets were distributed with support from NGOs, the Delhi Commission of Women (DCW) and local community leaders under the Delhi Government's direction. The outreach included displaced artists, craftspeople, waste collectors, mines workers, industrial workers, stranded migrants, refugees and sex workers & their children.
Nepal Earthquake, 2015 Rebuilding Nation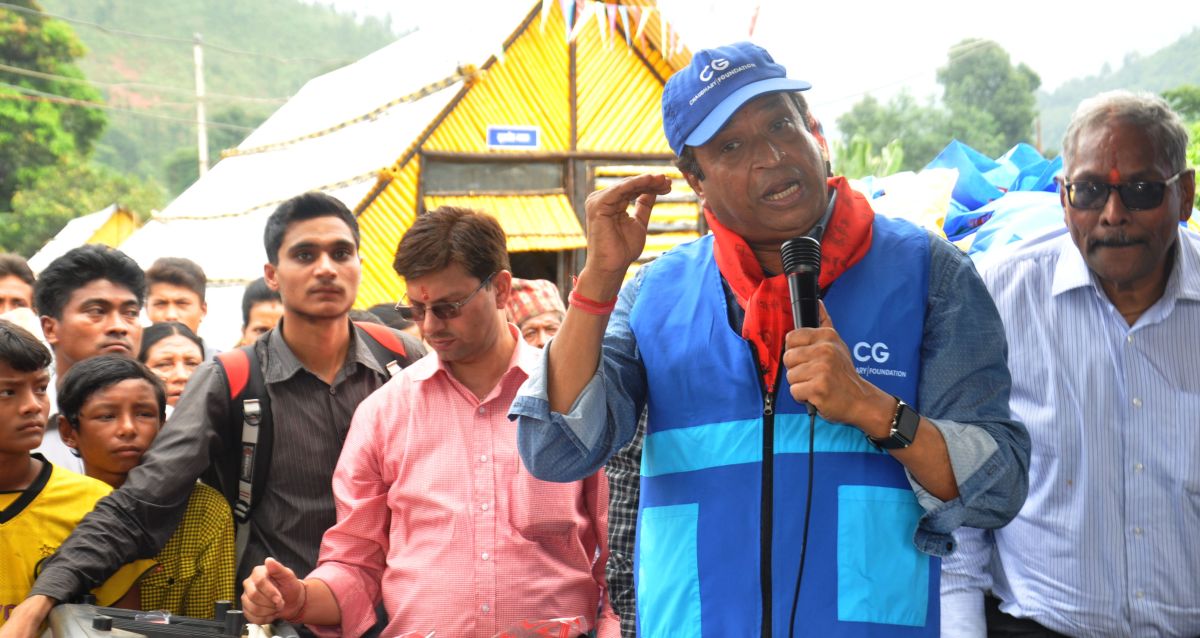 Major earthquakes struck Nepal on April 25 and May 12, 2015, affecting 5.6 million lives. During such disasters we stand strong as a Group. We tried our best to help the devastated communities. Despite our own grief and pain, our Group was there to provide immediate response to the communities. We started relief camps in 5 CG|Education Schools located in Kathmandu Valley on the same day of the disaster. Relief camps provided free food, shelter and medical supplies.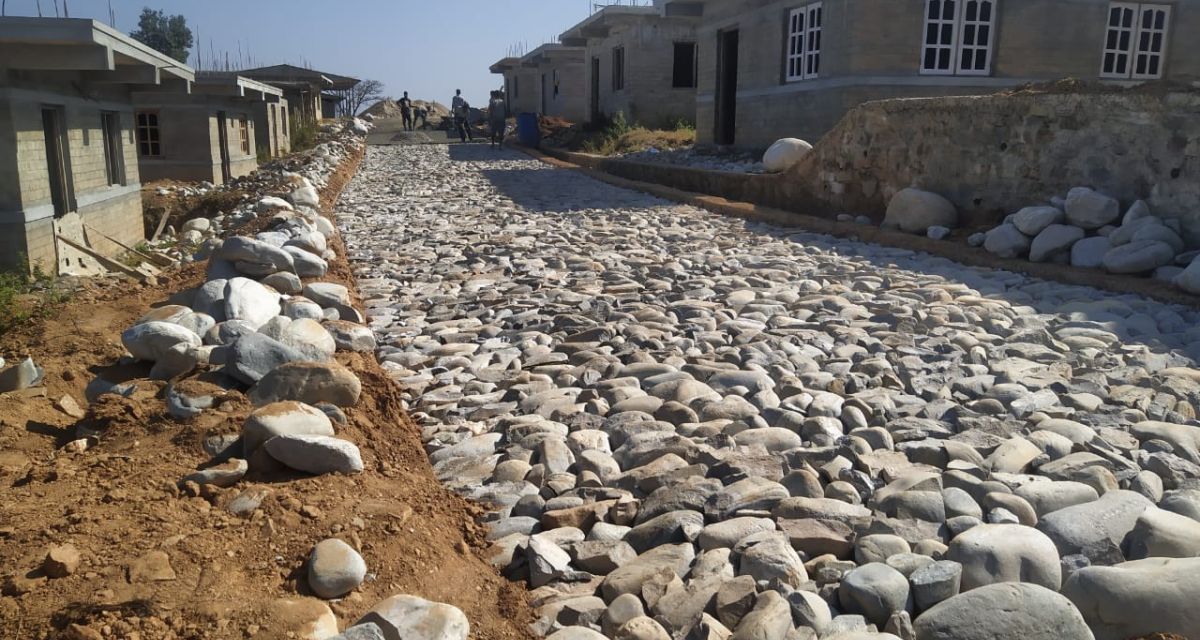 CG Shashwat Dham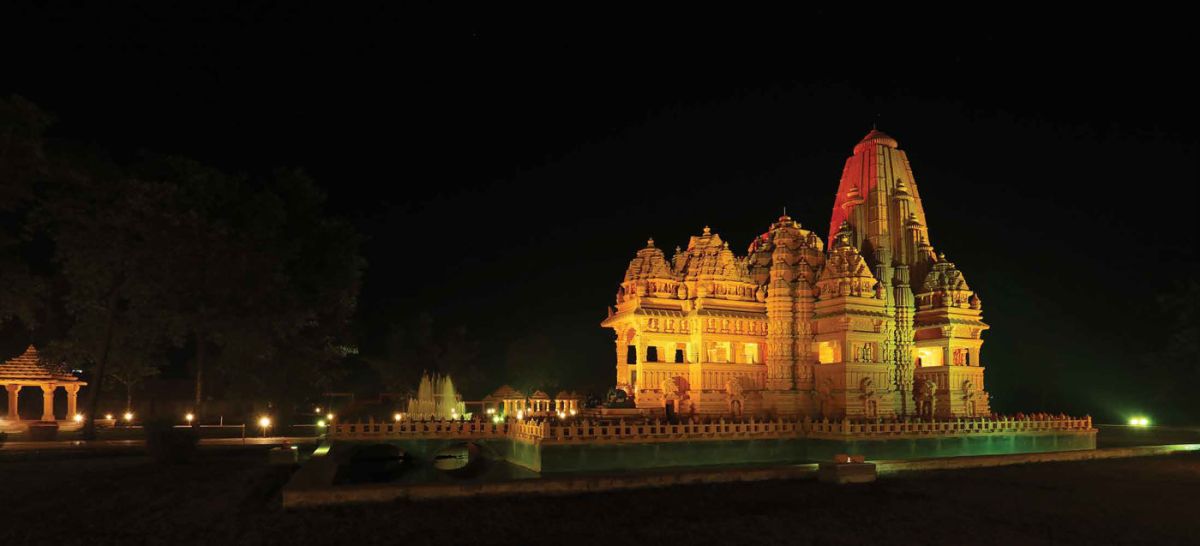 CG Shashwat Dham is a spiritual and leadership development center located in the CG Industrial Park, Nawalparasi, Nepal. The center conducts regular programs to train and inspire the youth to take up social responsibility in their respective areas. The center was established with inspiration from Sri Sri Ravi Shankar, founder of Art of Living International. The center has a Vaidik Karmakanda Gurukul, a Gaushala, a library, and many more things to interest a Sattvik mind.
Shashwat Dham is one of Nepal's most popular tourist destinations. With the stunning Ekambareshwar Shiva Temple, a Buddhist centre and a yoga retreat, the site attracts visitors from all walks of life. With the divine blessings of Gurudev Sri Sri Ravi Shankar Ji and Sri Kanchi Shankaracharya Jagadguru Jayendra Saraswati Ji, Shashwat Dham aims to be a destination for everyone to attain spiritual strength, immerse themselves in eternal knowledge passed down by generations of saints and sages of Vedic times and experience love and joy — the true nature of our inner being. The idea for Shashwat Dham was conceived over 20 years ago when Gurudev Sri Sri Ravi Shankar Ji came to Nepal. He told Chaudhary that although Nepal has innumerable temples, it lacked good Karma Kanda Pundits, who were well versed with Vedic knowledge and practices. This inspired Chaudhary to build a temple that wasn't just a place of worship but a place that delivers true pundits, who uphold and preserve the spiritual and religious values of the Sanatana Dharma. The site is also home to a spiritual museum, numerous beautiful statues, a Dhunge Dhara, a heritage store and much more. Shashwat Dham hosts a Vedic Karmakanda Gurukul, where young Brahmins can learn the knowledge and ancient methods needed to perform various rites, rituals and poojas alongside their standard education as well.
CG Nepal Social Business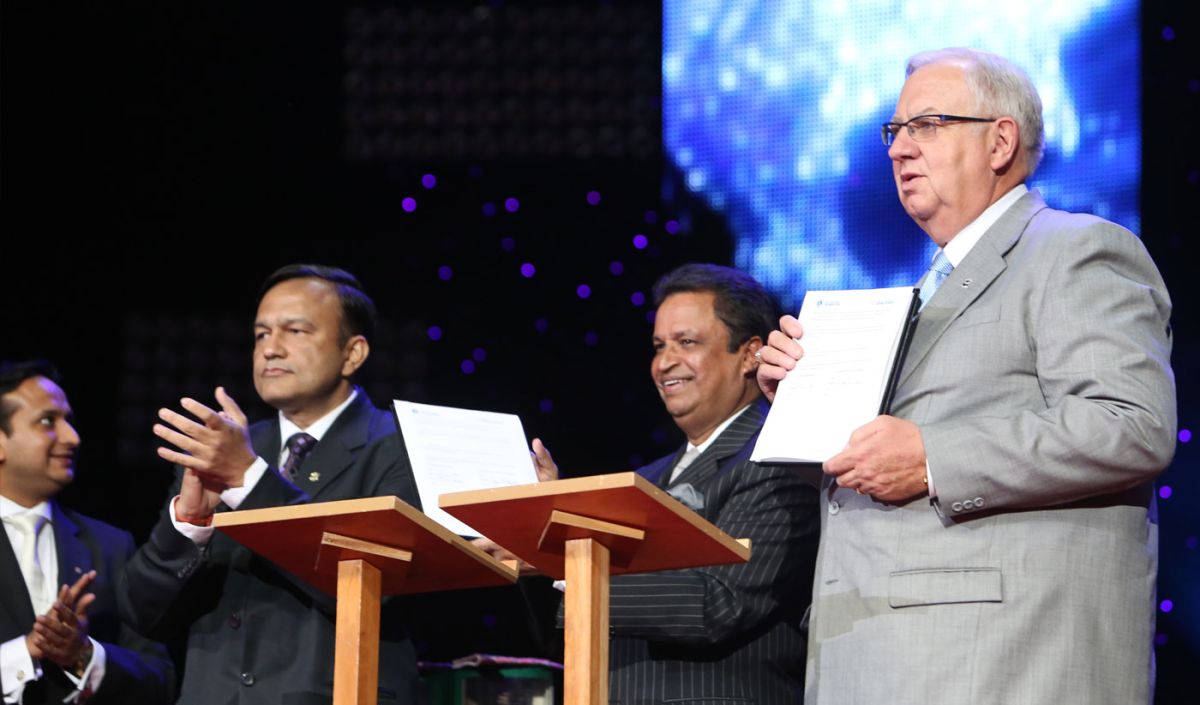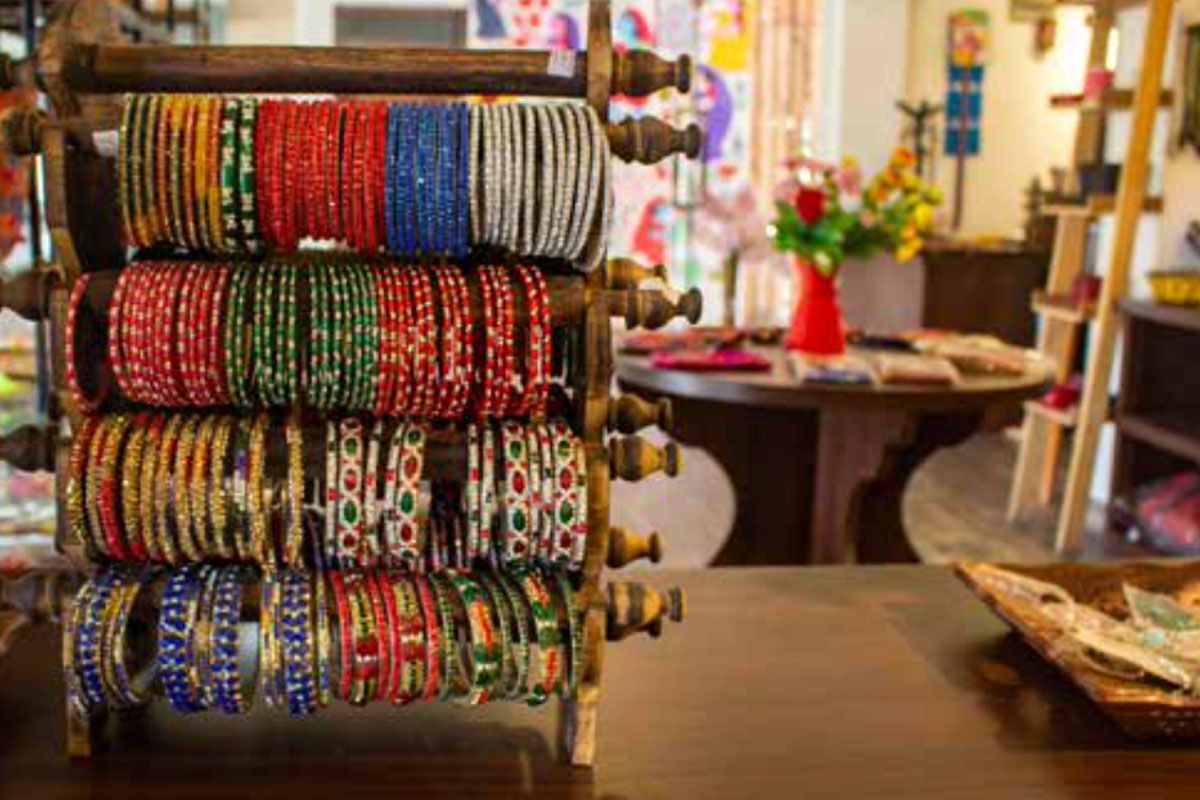 Nepal Social Business (NSB) is a joint initiative of Lions Club International Foundation and Chaudhary Foundation (CF). The partnership started in July 2014 to create a platform that supports and funds social businesses with innovative ideas in Nepal. It aims to encourage innovative entrepreneurship especially youth-led that can generate employment opportunities and financial sustainability in a socially impactful way.
UNNATI CULTURAL VILLAGE
Unnati Cultural Village is a platform created by the Unnati team of the Chaudhary Foundation with the objective of promoting and conserving Nepali traditional handcraft and various other indigenous skills. Unnati Cultural village is a destination of art, craft and culture. It has several components such as a Craft training center, an art residential space with luxurious rooms and a cultural and heritage banquet hall area. The platform is intended to promote various art and art installation through its open museum space. The center is the design hub and it is an inspiring space in order to connect and innovate the creativity of artists locally and around the world.
UNNATI CULTURAL VILLAGE
Harkapur- Gaindakot 12 , Nawalpur , Nepal
Website: www.unnaticulturalvillage.org
Unnati Bazaar, Shashwat Dham
Located at Shashwat Dham - a popular destination for tourists & spiritual travellers alike is the Unnati Bazaar, which is where you can purchase a diverse range of traditional crafts made by traditional and indigenous artists especially women across Nepal. Unnati Bazaar is supporting dozens of entrepreneurs through market linkages that Unnati created for their products. This Bazaar has been a major attraction for people coming to Shashwat Dham and this platform is also orienting and raising awareness for people regarding the value of local products made by Nepali artists. This platform is not just a Bazaar, but it is also the source of inspiration and information to many others to show that once skills are harness, economic prosperity is possible.
Textiles, Hemp products, Mithila paintings, Felt, Handmade papers, Beaded jewelry, Pashmina shawls, Organic food products, Khasto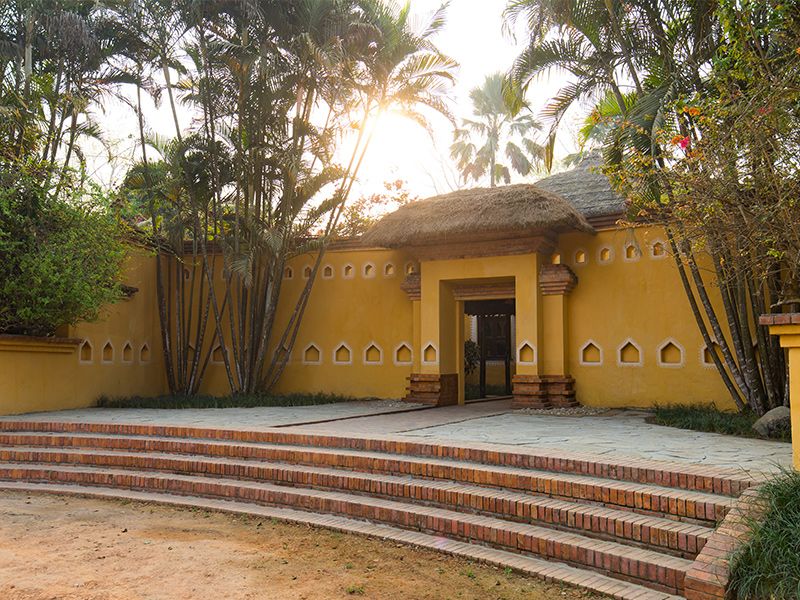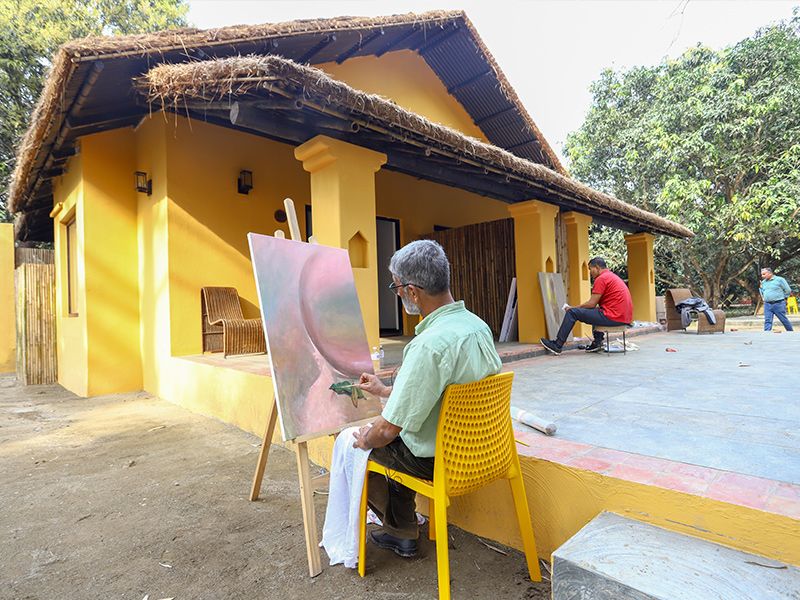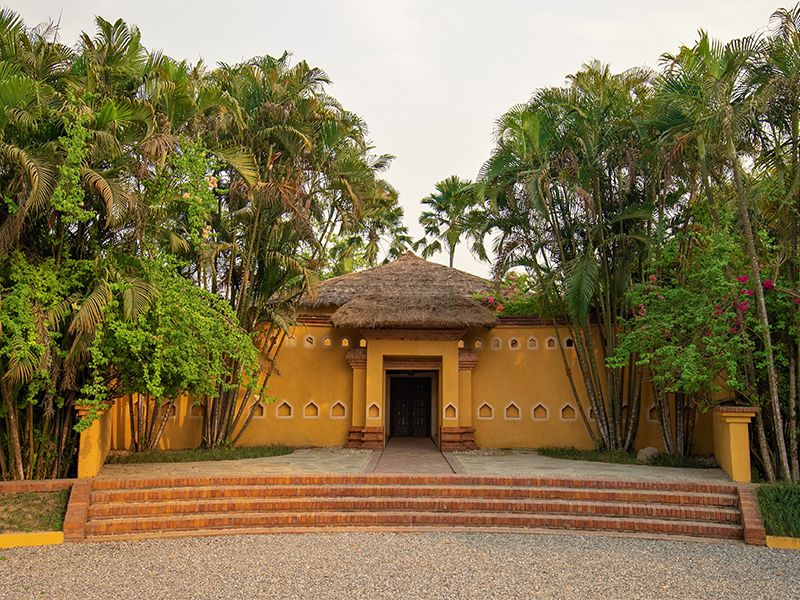 UNNATI

Unnati is a skill development program that promotes sustainable livelihood by empowering skillful manpower especially women from vulnerable communities in both rural and urban areas. Unnati helps in enhancing the skill and create products and connect such product with the market in order to create an end to end solution of the market. Such programs create sustainable livelihood and help the skillful workers in believing their skills through market connection. Unnati helps in strengthening the small micro-entrepreneurs and guide them towards a sustainable livelihood.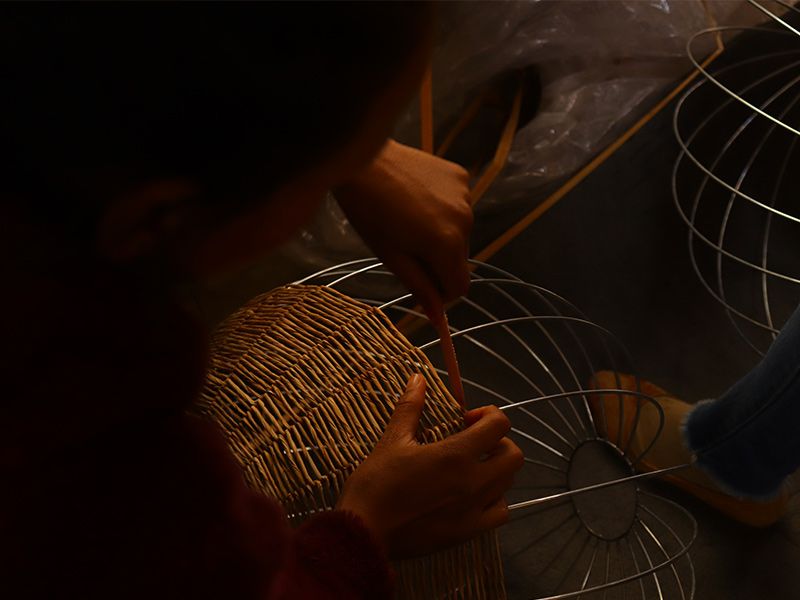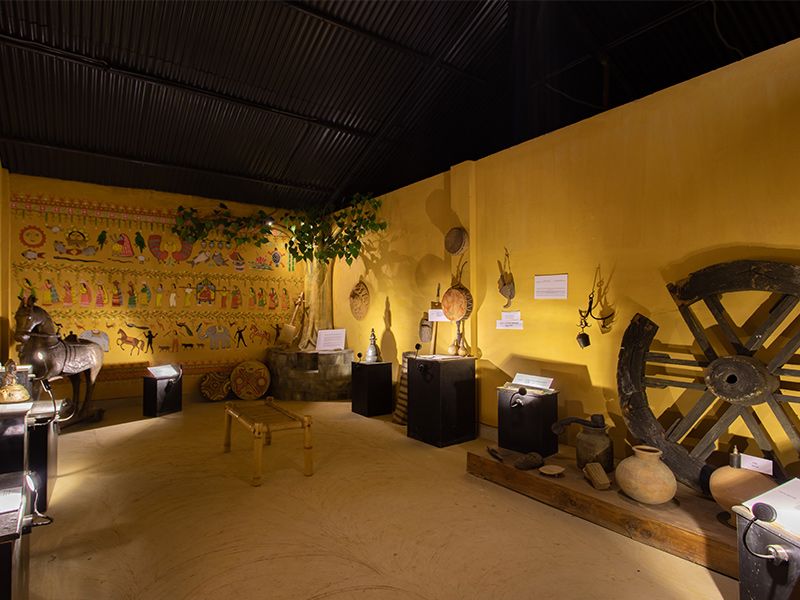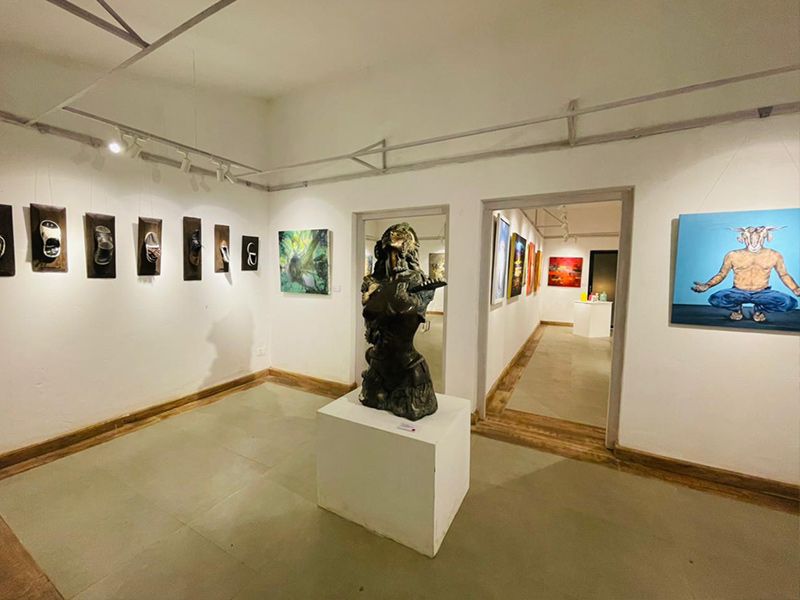 POST DISASTER RESPONSE & MANAGEMENT
Chaudhary Foundation always reacts swiftly to revive from the situation of disaster bring the life of affected on normal track through its initiatives and programs.
Post- Earthquake Relief (2015): As an emergency responder, Chaudhary Foundation mobilized its 100 employees and provided hundreds of thousand packets of noodles, tonnes of ready-to- eat bhujiya, juices and water. More than 3000 transitional shelters, 40 schools were handed over to the affected community of 10 districts under its program CG Ashraya and CG Shikshalaya.
Model Village: Chaudhary foundation has been working closely with The National Restructuring Authority and Local community for integrated Model Village a thriving village, comprises 62 households, a community and health center, school, clean drinking water facilities, that would serve a community of 350 residents of the marginalized community affected by the 2015 earthquake.
ARTIFICIAL LIMB FITMENT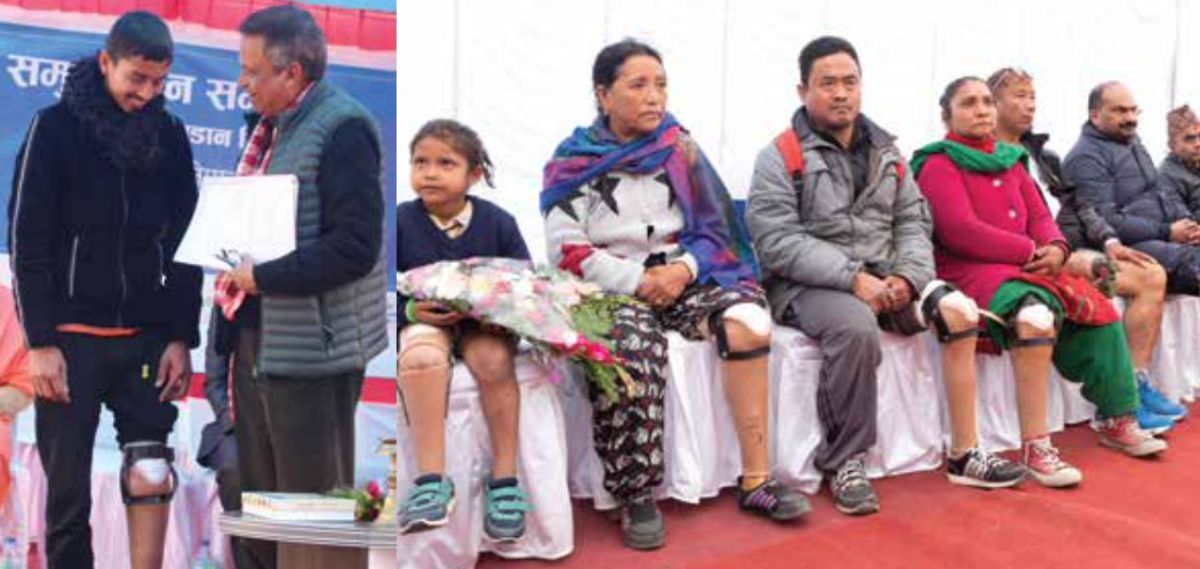 A permanent center for artificial limb fitment camp is established by Chaudhary Foundation in Nawalpur district. The research shows that about 100000 people in Nepal are living without legs or hands which they lost during accidents, health reasons, civil war and even the birth defects. Chaudhary Foundation conducted two such camps in Kathmandu and Nawalpur and was inspired to observe the impact of people by providing them an artificial limb. Thus a permanent center was created in order to make beneficiaries independent and help find themselves livelihood opportunities through a rehabilitation program. Almost around 700 beneficiaries have received such limbs so far in the lastyear.